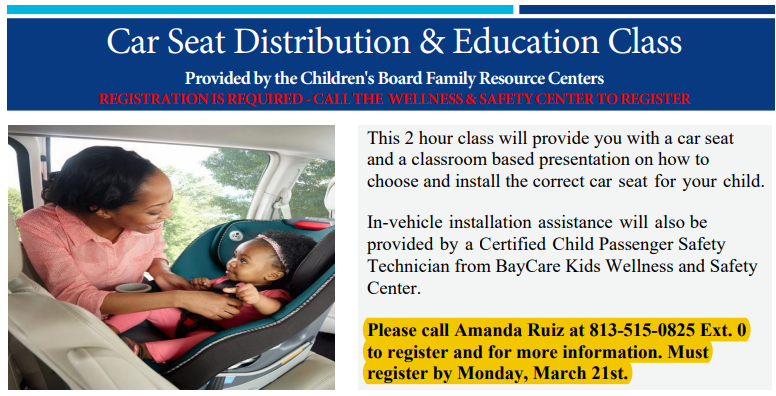 Car Seat Safety Class W/ Baycare Kids
Motor vehicle crashes are the leading cause of death for children between the ages of 1 and 14 in the United States. Florida Child Passenger Safety and Seat Belt Law states all children age 5 and younger MUST be in a child restraint. Children age 6 and over MUST use a seat belt. However, Safe Kids Worldwide recommends keeping a booster seat-age child in a booster seat until they've outgrown their booster seat by weight or height. Our goal is to ensure that all children are appropriately restrained in vehicles for their safety. We provide one-on-one car seat inspections and car seat education classes to our community.
Car Seat distribution and education (3-hour class) for caregivers of children up to booster seat age (12 years old). Hands-on Instruction provided by our Nationally Certified Child Passenger Safety Technicians. Installation assistance is provided in caregiver's personal vehicle. Caregiver will receive a seat based on their child's age, weight and height. Child must be present. Limit of 6 car seats provided.
Must register in advance.