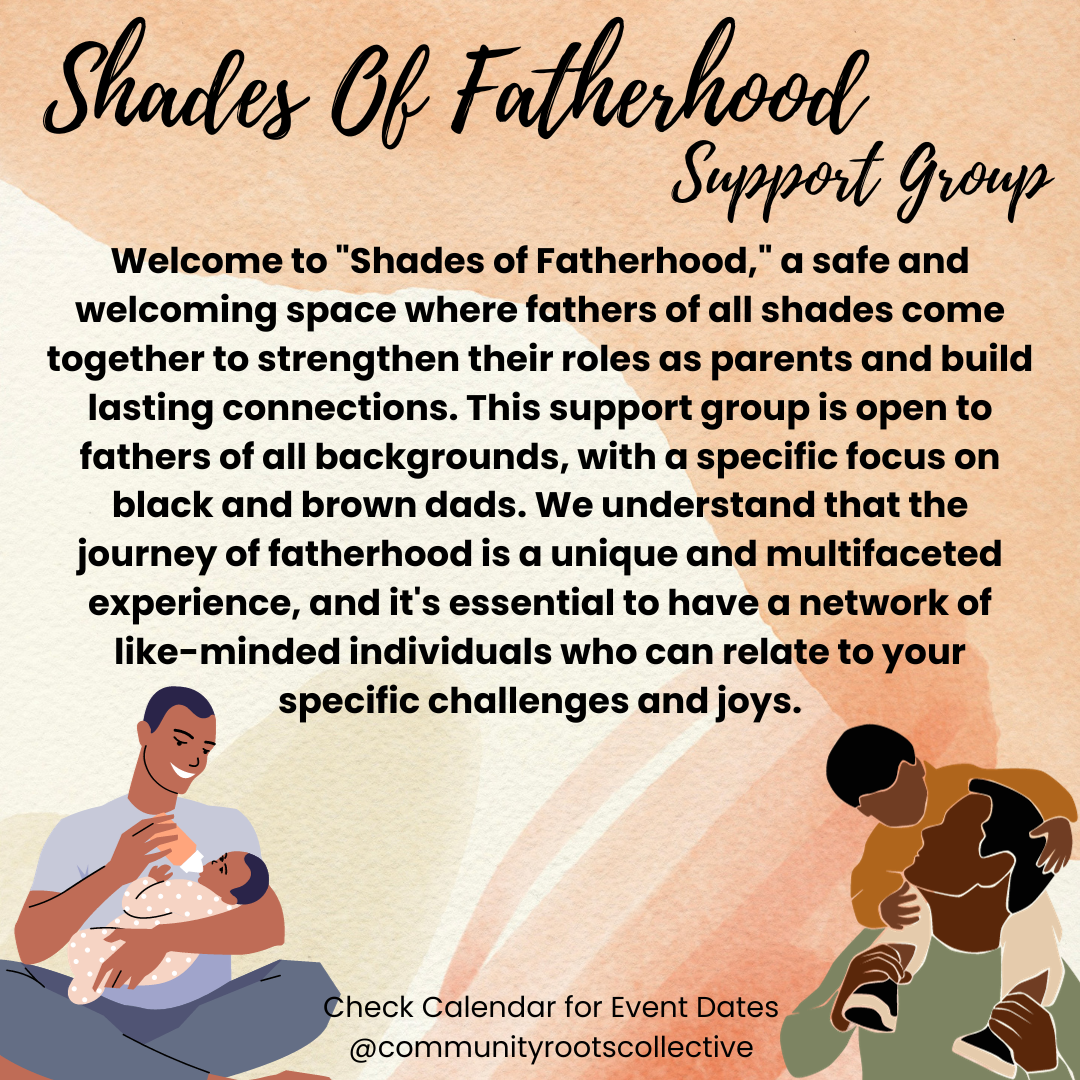 Shades of Fatherhood Support Group – Building Bonds, Sharing Stories
Are you a black or brown dad looking for a supportive community where you can share your experiences, challenges, and successes in fatherhood? Welcome to "Shades of Fatherhood," a safe and welcoming space where fathers of all shades come together to strengthen their roles as parents and build lasting connections.
About Us:
"Shades of Fatherhood" is a support group created by Community Roots with the aim of providing a nurturing environment for fathers of diverse backgrounds. We understand that the journey of fatherhood is a unique and multifaceted experience, and it's essential to have a network of like-minded individuals who can relate to your specific challenges and joys.
What to Expect:
Open Discussions:Our meetings are a platform for open, non-judgmental conversations about the ups and downs of fatherhood. Share your thoughts, seek advice, and offer your wisdom to fellow dads.
Expert Guest Speakers: We will invite experts and community leaders to provide valuable insights on various aspects of parenting, wellness, and family dynamics on occasions.
Bonding Activities: Strengthen your connections with fun and engaging activities that encourage collaboration, support, and friendship among fathers.
Empowerment: "Shades of Fatherhood" is all about empowerment and personal growth. Discover new resources, strategies, and opportunities for becoming the best dad you can be.
Who Can Attend:
This support group is open to fathers of all backgrounds, with a specific focus on black and brown dads. We celebrate diversity and welcome fathers from all walks of life.
Join Us:
Connect with other fathers who share your experiences and the joys and challenges of being a parent. Whether you're a new dad, a seasoned one, or somewhere in between, you'll find "Shades of Fatherhood" to be a valuable and enriching experience.
Come join us in building a strong, supportive community for black and brown dads. Together, we can celebrate the "Shades of Fatherhood" and grow as individuals and parents.
To confirm your attendance or for any inquiries, please RSVP
Let's make the journey of fatherhood even more fulfilling. See you at "Shades of Fatherhood"!