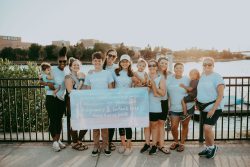 On October 13th 2021 The Community Roots Collective (CRC) met in solace to gather as a community and honor those who have lost a child. Parents of all walks of life joined to remember our youngest souls that could no longer be with us. Hugs, tears, and hope were all shared on this day. CRC could not be more grateful to everyone who showed up.
Elle Tinnirella Shares:
"The first thing I noticed was the sun. It was bright, and large, and hung low and inviting in the Florida sky. My first thought was how she would've loved this day, and the sun, and the warmth, and the fragrant breeze as it came down along the river. My second thought was how she would never experience it."
The Pregnancy and Infant Loss Remembrance Walk hangs at the crux of beautiful joy and intense grief. On the gorgeous lawn separating Ulele and Armature Works, families gather together to remember lives that should have been, and celebrate the memories of those gone far too soon. It was more than three years ago where I myself sat in a hospital in Philadelphia and learned the horrific news that one of my twins did not survive fetal surgery. The weeks that followed were a blur, as I carried them both of them until birth, where I ultimately had to say my final goodbye to my daughter, Paola. Motherhood bread it's own unique form of grief, as I found myself surrounded by loving people eager to talk all about my living daughter while pretending her sister didn't exist. The loneliness of being a bereaved parent was crushing. But there was no loneliness at the Loss Walk. Stories are shared, and tears are shed. Families gather in matching shirts that proudly exclaim who they're waking for. It is an opportunity to be seen as a grieving mother, father, sister, brother, aunt, grandpa, and everything in between. Throughout all of the commotion of the day, there is one underlying theme: their lives mattered. The walk culminates in a flower drop off one of the docks, and the multicolored swirling buds are a lot like that glistening sun: a unifying reminder that there are some things too precious in this world to be taken for granted.
For anyone and everyone who can take some semblance of peace from simply remembering, please join us for this years Pregnancy and Infant Loss Remembrance Walk.
2021's Loss walk raised $9100 between monetary and in-kind donations. we want to thank all of our sponsors.
Ulele, Tampa Bay Birth Network, Elite DNA Therapy Services, LLC, Seminole Heights Soccer Tots, Fit 4Mom, Down There Docs, Sound Mind Wellness Services dba Sound Mind Therapy, Black Birthworkers Rock
The 2022 Pregnancy and Infant Loss Walk will be held in a new location, please stay up to date on our social media for all the updates.
If you would like to sponsor this year's Loss Walk, volunteer or donate please email us  HERE! 
A HUGE thank You to Reilly Maguire Photography for taking these breathtaking photos!
« More posts